Home
Search Engine Marketing
Clearwater Search Engine Marketing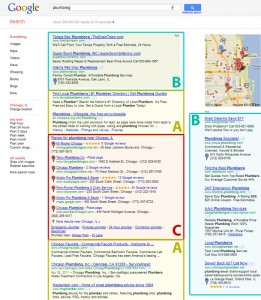 Studies show that anywhere from 50% to 80% of all web traffic comes through search engines. Having a strategy in place to ensure that your website is visible through search is a necessity in today's business world. Search engines are fast replacing newspapers and phone books as the largest source of new leads. Ignoring these emerging trends puts businesses at a disadvantage when seeking new clients.
Basically, there are three primary methods (actually more than that) of marketing a business through search engines. Each method has its own set of advantages and disadvantages. Subtle Network Design works with you to find the solution that best fits your needs and budget. In most cases we adopt an online marketing strategy that includes more that one element.
"Organic search results" (Image A) are the free results that a search engine returns for a given query. An organic search strategy includes on-page and off-page optimization tactics aimed at ranking a client's website on the first page of organic results for the most relevant, high converting keywords.. read more
Google, Yahoo and Bing sell advertising space on the sides and at the top of their search results (Image B). These paid results are ads displayed in an order that is established through a bidding process. The ads displayed in higher positions have higher bids than those displayed lower on the list. Advertisers only play if they receive a "click" from a browsing customer (thus the name, "pay-per-click").. read more
When someone types a search term that shows local intent, either by including a location in the search or simply by searching using a term commonly considered to be serviced locally, Google and Bing serve up results specific to that searcher's location. These are the local results (image C) that correspond to the Google places listing for that area (see Google maps).. read more
"Many online marketing firms will engage in deceptive smoke and mirror tactics that focus on a single element of search engine marketing as a way to create the false perception of success.  In many cases, this leads to their clients losing out on a great deal of potential traffic and wasting money on minimally effective strategies.  At Subtle Network, we strive to educate our clients and involve them in the process. We know that the only true way to serve a client is to help them grow their business.  If you're looking for the Guaranteed Top Rankings push button, you'll have to look somewhere else."

–Jarrod Wright, Owner
Additional methods of ranking in a search engine include: Video Marketing, Photo Ranking, Merchant Listings and Press Release Marketing.  The opportunities to gain exposure online are endless. We are passionate about being the premier Search Engine Marketing Firm in Clearwater and work tirelessly to learn and perfect many online marketing techniques.  We offer services you can trust and the results that you can see. We offer an experienced approach to Social Media Marketing, Clearwater SEO, PPC and many other online marketing strategies.