Quality Printing Service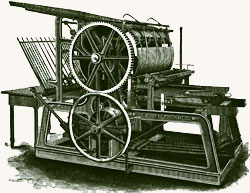 Subtle Network Design & Marketing is a Premium Clearwater Printer. We work to ensure that our client's marketing materials are printed using the highest quality materials and with the latest technology available.  In many cases we are a one-stop solution for our client's marketing needs. We offer affordable solutions for: Business Card Printing, Brochure Printing, Postcard Printing, Letterhead Printing, Envelope Printing, Promotional Products Printing, T-Shirt Printing, Banner Printing and More.
Our Commitment to Quality
While we believe that quality graphic design and a fully developed marketing concept are the cornerstones of an effective marketing strategy, we know that print quality is also an integral component to your success. A great design and an effective message can be squandered by a shabby print job. This is part of the reason why Subtle Network strives to handle the development of a design as well as the printing process for our clients. Our printing service allows our clients to rest assured knowing that the final piece will meet or exceed their expectations.
Our Focus on Affordability
Subtle Network Design & Marketing knows that quality cannot be our client's only concern. Affordability is also an important factor when making decisions about a marketing budget. After all, the goal of advertising is to bring in the money rather than spend it.  As a firm, we remain focused on figuring out strategic ways to keep costs down.  Our clients typically pay 20% – 40% below what they would spend at a comparable firm or printer. We are able to save them money in two ways.
First, we save a client money is by significantly discounting our graphic design and marketing consultation services when we are able to bundle them with a printing project.  Our hourly rates are discounted by about 40% when printing is included as part of a project. This enables us to offer, "package pricing" that is both more affordable and more transparent than it might be if a client were to use separate companies for each service.
Second, we choose the vendor and the equipment best suited to a particular project.  Most business printers own their technology, and this forces them to specialize in a certain type of printing.  Unfortunately, there aren't many printers who will admit their limitations to a customer.  As a result, the printer who is best suited to produce 10,000 full color brochures probably has lousy prices (and quality) on 1000 one-color envelopes. Subtle Network Design & Marketing purchases our printing at steeply discounted rates directly from a large variety of wholesale distributors.  This means we often can offer competitive pricing and superior quality than what you may find with local printers. Our clients do not need to know the difference between a web offset and digital sheeted press. It is our job to know what will work for you.
We also provide printing services to many clients who provide their own designs (or reorder designs we have previously done). Jarrod Wright, owner of Subtle Network Design & Marketing, has been a print broker for almost a decade. He works hard to ensure that the firm's pricing stacks up very well in the evolving market. While occasionally someone may underbid our services on specific items, our clients know that in the long run, our services will save them time and money.  As a firm, we even serve a handful of brokers who markup and sell our printing at higher rates to their clients.
Aside from printing we also offer services that include: Search Engine Marketing,  Website Design Clearwater FL, Logo Design and more.  Let Subtle Network offer your business the competitive edge you have been looking for.