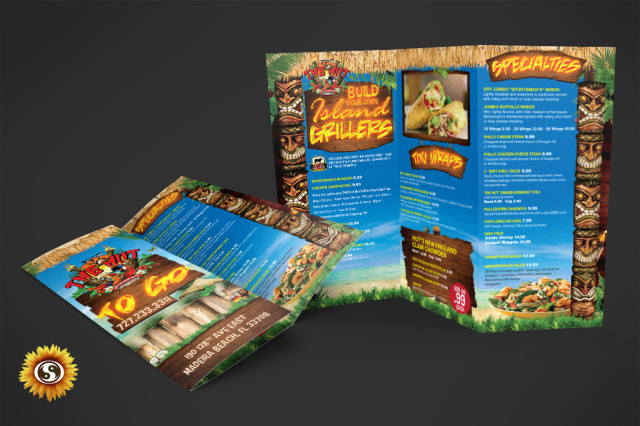 Best Business Brochure Design Tips
You're probably reading this article because you want your business brochure design to produce as much ROI as possible. Don't worry; we've got the tips you'll need.
But there is something else to consider as you craft the ultimate print marketing tool: impressions. What impression will your brochure make?
Both the cost associated with your brochure's production and the impression it leaves could make or break your business.
So let's consider the top eight tips to make sure your business brochure design generates as much profit and as many positive impressions as possible.
1. Lay the Foundation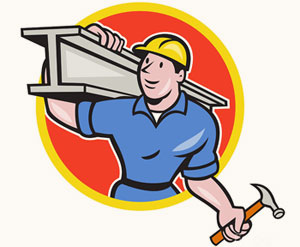 Before you do anything else, you must lay the foundation for your business brochure design. Don't mess around with copywriting or image selection just yet. First, think about the following essentials (if you are a fan of acronyms, you could call this AIDA):
Figure out the best way to grab the reader's attention.
Think about how you will stir their interest.
How will you make them desire your products or services?
What action do you want readers to take?
2. Write Captivating Headlines
When you pick up the pen to start copywriting, start with the headlines. Brainstorm as many ideas as possible.
You have approximately six seconds to convince readers to open your brochure. If you do persuade them to open it, you'll have to work hard to get them to keep reading.
Which headline is more compelling?
Find the Best Sales Strategy
Train Your Staff to Land the Biggest Sales
3. Don't Tell It. Sell It.
Readers don't care about your new business model, your increased sales staff, or your newly redesigned office space. They don't even really care about your new product launch. They don't care about you. Readers care about themselves.
Don't tell readers about the new equipment you installed at the gym. Sell the idea that members now have access to the best weight loss equipment on the market, will never have to wait in line for their favorite elliptical machine, and will be able to lift a house over their head if they only come check out your snazzy new gym.
4. Accentuate the Important Parts
You probably have a very short amount of time to convince your readers to take action. They might be scanning your content as they walk from the mailbox to the house.
Big blocks of text are intimidating. They look time consuming and…boring. Since we all know readers are looking for the highlights—the most applicable information—make it easy to find.
Use bulleted lists. Bold the important words and phrases. Keep the overall message short and easy to digest.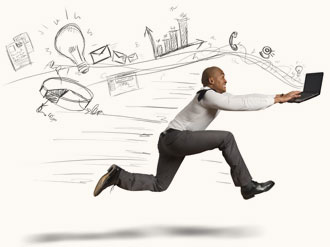 5. Include a Call to Action
The entire reason you are printing a brochure is to generate action on the part of the reader. Yes, you want to tell readers about your all new line of basketball shoes. But don't you also want them to buy a pair?
You wouldn't print an entire brochure with the sole purpose of saying, "Remember us? We're still here!"
No. You want readers to do something. So don't forget to tell them what you want done.
Let readers know exactly what you want them to do. Don't make any assumptions. You might think it's obvious that readers will pick up the phone and call to make a hotel reservation during your upcoming sale, but don't assume they'll make that connection.
Tell them. Spell it out. Call us, go online, book now, place your order, bring this coupon—whatever!
6. Be Easy to Reach
If you want readers to take action, you had better make it easy for them to do that! List all the essential contact information. You have no way of knowing which is their preferred method of contact, so list them all…phone, email, address, website, QR Code, facebook, twitter, etc.
7. Create Urgency
Without urgency, a reader won't be enticed to take action now. They might wait to see what other options are out there. Don't let your competitors steal your potential customers away with a better offer. Your offer is in front of the reader right now; get them to take advantage of it.
Some suggestions include:
Get a 10% discount on all orders placed in September.
Receive a free gift with all purchases made before August 31st.
This weekend only…
Buy before Saturday and get a $10 rebate.
Quantities are limited.
8. Reduce the Risk
To many readers, you are a new entity. This brochure might be the first interaction they've had with your company. Therefore, readers will be on high alert, fearful of trusting you.
Consider easing their anxiety. Offer a free trial, a money back guarantee, or some other reassurance. Let readers know there is nothing to lose by taking you up on your offer.
An innovative brochure design is essential for optimizing ROI and creating positive first impressions of your company. To make the venture even more successful, consider hiring a brochure design company.
At Subtle Network Design & Marketing, we offer all-inclusive business brochure design services. Our Clearwater graphic design specialists will create the most eye-catching, actionable layout possible. Then, the project will be passed off to our state-of-the-art printing department.
If you'd like more information about creating the optimal business brochure, contact us today!
---
---