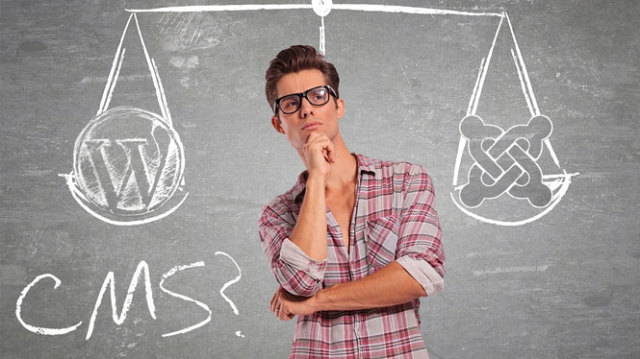 What is Open Source Web Design
(And How Do I Choose a CMS)?
In today's tech-driven world, having an online presence is essential. But creating a website is a chore few people relish. In fact, if you've looked into the idea, you've probably come across several terms you don't understand. And if you can't understand the terms, how on earth are you going to follow through with the actual website design?!
Breaking It Down
Before you can embark on the design process, you'll need to choose a content management system. And selecting a CMS will be based on your open source web design preferences. Don't let these two concepts freak you out. They are really quite simple to understand.
What Is Open Source Web Design?
A source (also called source code) is the code written for computers by programmers. Basically, source code tells the computer what to do. With this definition in mind, open source simply means that the source code is free and available to members of the public with few or no copyright restrictions on use of the source.
Open source originally referred to only software, but now the definition is expanding to include other areas–such as web design–that are also publicly developed and shared.
Thus, open source web design includes the sharing of webpage design ideas and templates between all Internet users.
What Is CMS?
Now that you know what open source means, it is easier to understand open source content management systems. A CMS allows web administrators to manage content on a web site.  It is the proverbial "back end" most modern websites are built with.
A CMS serves two main functions:
actual management of content
delivery of this content
The best thing about CMSs is the ease of use. You don't need to have programming or design skills to manage a website.
By utilizing open source web design, someone else does all the dirty work for you. Your designer can create the design and then the actual site content can be easily managed  by you.
You Still Need Professional Help, Though
While content management systems and open source web design make website ownership easy, you still need professional help. Unfortunately, even the best CMS doesn't make bad web design impossible!
These two tools can't…
make the process less time consuming. Designing and maintaining a website takes a lot of resources. You should be focused on developing your business, not worrying about which color scheme is most flattering for your brand.
rank your site in search engines. SEO is a vital part of website design. It's a labor intensive act that can't be completed with a few clicks. And it is super complicated (if you don't believe us, check out this article that tries to answer the question, "What is SEM?"). Plus, the entire concept of SEO is always evolving, meaning routine updates will need to be made to the site in order to stay relevant in search results.
convert visitors into customers. Websites need to have a specially designed conversion funnel—directing visitors in a subtle way to do what you want them to do (sign up for a newsletter list, make a sale, download an ebook). Without online marketing expertise, your site won't be effective.
While a professional will be responsible for many aspects of your site's look and function, you still need to be involved. And the only way you'll feel comfortable being involved is if you choose a CMS that meets your individual needs.
Let's look at the top CMS options.
How Do I Choose a CMS?
We'll compare three of the most commonly used open source CMS platforms: WordPress, Joomla, and Drupal.
WordPress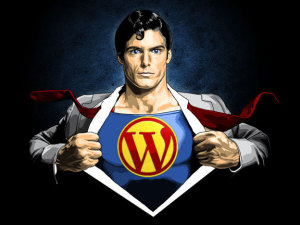 Of all the websites on the Internet, 23% are created using WordPress. This makes WordPress the most popular CMS on this list.  It is the system that we most often use and one that we recommend to our clients.
WordPress is a great example of minimalist web design—which makes installing it easy. You don't need to be super tech savvy to get a WordPress site up and running.
However, the startup configuration is pretty basic. That means even with a professional web designer's assistance, there might be certain things your site can't do.
WordPress offers its users more than 2,000 themes. The CMS is able to offer so many themes because of its popularity and the sheer number of people contributing to this open source.
WordPress also has a ton (more than 28,000) plugins. Plugins let you customize the features of a site. Generally speaking, plugins are good and help make a site better. However, WordPress was originally meant as a blogging tool. This fact is reflected in the limitations of the platform that require plugin installation to counterbalance.
Overall, WordPress is a winner because it is so easy to use. The WordPress community is large, so there is plenty of community support if you need help. If you are looking for something easy and simple, WordPress may be your best bet.
Drupal
WordPress may be used by more sites, but Drupal is used by higher-traffic websites.
Drupal users are spread across the world, with 1.2 million sites written in nearly 200 different languages. With so many diverse users, Drupal clearly has something to offer as an open source CMS platform.
There was a time when Drupal had the most complex installation process of any program in this list, but Drupal has since evolved to make the process easier. Starting a Drupal site is still time consuming, but it isn't impossible for the less technologically aware.
Drupal offers just over 2,000 themes and has nearly 29,000 modules (similar to WordPress's plugins).
Drupal releases updates regularly to keep users as up-to-date as possible, though Drupal installations must be done manually. Manual updates involve backing up old files, installing the latest update, and re-uploading all of your files.
This process is pretty daunting for website novices so a web design professional should probably help you out (let us know if you need help updating a site in any CMS).
Although it's best to have professional help for Drupal's installation, updates, and customization, the day-to-day management of content is quite intuitive.
Drupal uses a menu bar along the top of the page that clearly lays out links to the important parts of your site. Learning to use Drupal is easy once the platform is up and running.
Joomla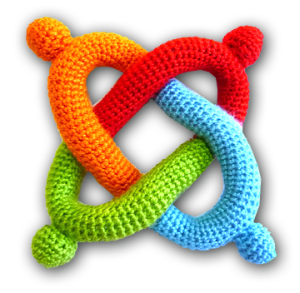 Last but not least on this list is Joomla. Joomla has over 50 million downloads and is used by entities such as eBay, General Electric, IKEA, the United Nations, and others. Although, Joomla prides itself on being accessible to large and small groups alike.
Installing Joomla is similar to installing Drupal, but with a few key differences. Neither CMS is as easy to launch as WordPress though.
If you're considering either Joomla or Drupal for a business site, let us help you. It is important to lay a firm foundation for your business from the very beginning. While all CMS are intended to be used by the masses, there are always little mistakes that can cause big problems down the road.
Joomla offers almost 8,000 plugins and more themes than Drupal, so there are plenty of options for web design. Themes must be edited offline or by using a plugin so customization isn't super easy.
The homepage for Joomla is a bit overwhelming at first, and it takes time to familiarize yourself with the Joomla interface.
However, once you learn how to navigate it, you will find that Joomla's administration view is more polished than Drupal. In fact, Joomla offers owners more control over their website.
Still Have Questions?
Do you still have questions about open source web design or choosing a content management system?
Contact Subtle Network Design and Marketing. We can help with whatever you need–whether you just want a little guidance to launch a new site or want full website management. Our team of professionals can help you with the design, content, and SEO.
Creating a new website is an exciting—and essential—part of doing business in today's digital world. Choose the best content management system and let's get started today!
---
---