The SEO Checklist: What an SEO Professional Can Do for You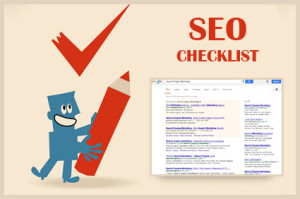 SEO is a constantly evolving and changing subject – which requires a great deal of research and experimentation. Few business owners have the time necessary to devote to the subject. In most cases, your best option would be to hire an SEO specialist.
However, owing to its complex litany of challenges, SEO is continuous process – that can sometimes get a bit pricy.
Have you ever wondered where your SEO dollars are getting spent?  If you have hired a professional, here is an SEO checklist of just some of the things this person will do on your behalf:
Laying the Groundwork
Install Google Analytics and properly set up the Google Webmaster Tools.
Explore all the different possible combinations of phrases which might be used to search for your products and services.
Assess which keywords would be most effective in attracting searches (terms with the most searchers, but with the fewest results).
Assign effective keywords to strategically-chosen pages on your site.
Optimizing Your Site
Write unique title tags and meta descriptions for each page.
Write target keywords into the URL of each page.
Ensure that your site's layout is navigationally concise and effective, with no page more than a few clicks from the homepage.
Add ALT tags to your site's images to help search engines understand what the visuals mean.
Optimizing Your Content
Review the information on your site to ensure each article has a proper amount of unique content.
Help you set up a blog, to which you can add supplementary, interesting, helpful and keyword-rich information.
Create alternative materials such as videos, podcasts, webinars, infographics, illustrations and PDF downloads.
Help identify a few key demographics who serve as primary audiences for your product or service and generate unique content designed to cater specifically to each.
Review elements of your marketing strategy – rather than focusing constantly on the product pitch, try including other related information which might interest your audience. This will give your website a more dynamic effect and keep them coming back over and over, even if they don't buy something on their first few visits.
Link Building
Identify your top competitors and find out who has talked about them online by exploring their inbound links from external sources. These are the people to whom you could be pitching your products or services.
Help you find the people who hold considerable influence over the industry via their blogs or social media. You can then follow these people and wait for an opportunity to pitch your content.
Find listing opportunities you already have – affiliate websites, industry associations and community boards and forums.
Generate appeal for your products and services while driving traffic to your site courtesy of well-placed guest posts.
Contact potential business partners on a personal level to instigate additional ROI opportunities like affiliate marketing.
Evaluation
Monitor keyword traffic overtime.  Adjust keyword development as needed.
Adapt strategies and tactics each time Google algorithms are updated.
Trying to run your own business is challenging enough. Trying to run your business and managing your own SEO strategy will prove to be too much to handle for most. By hiring an SEO specialist, you can dramatically improve your site's showings in Google searches, thus driving increased traffic to your site.
Some of the strategies mentioned in this SEO checklist are meant to have a more immediately visible effect, while others are long-term solutions which will gradually improve the visibility of your site in searches.
While hiring an SEO professional may be an expensive option, consider it as a long-term – and often essential – investment in your business.
---
---